Welcome to Steiner Designs
Thinking of marketing your business but don't know where to start? Maybe you've already tried advertising, but the results were less than what you expected. Would you like to save money by avoiding overpriced marketing firms? If so, let Sacramento graphic design and website design specialist, Steiner Designs, go to work for you! Steiner Designs specializes in making businesses STAND OUT! Whether you want more people to find your website or need help marketing your business, Steiner Designs can get you "The Results You Need for Your Business to Succeed!"
Services
Website Design
Graphic Design
Search Engine Optimization (S.E.O.)
Advertising Design
Magazine Design
Email Blasts / Email Newsletters
Newsletters
Flyers and Brochures
Online Advertising Campaigns
Logo Design
Brand Identity
Business Cards
Illustration & more!
Featured Project - Feb. 2018
This month's featured project is a responsive (mobile-friendly) website for Roseville Mobile Screens. Roseville Mobile Screens specializes in professional on-site window and door screen service. Serving the Roseville, Rocklin and surrounding areas.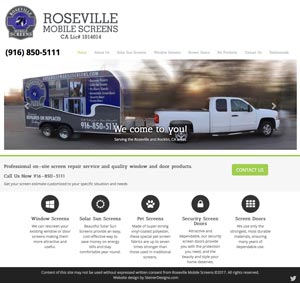 Why Steiner Designs?
Over 17 years of experience in print and web design.
Your satisfaction is guaranteed. Our goal is to make sure you are happy with the finished product, whatever it takes.
You will receive high-quality graphic design work at a fair price.
You will never again have to utter the words, "My designer never returns my calls!"
You will be supporting a local business, which helps our economy.
Most importantly, you will be working with someone you can trust.
At Steiner Designs, INTEGRITY is not just a word – it's everything.
For One Another Foundation
Steiner Designs is is happy to partner with For One Another Foundation, Inc., a local non-profit organization that provides safe, clean drinking water to impoverished communities across the world. To learn more about FOA, to make a donation, or to be part of this awesome cause, please click the FOA logo below, which will take you to ForOneAnother.org. Thank you!